The SMART Cable is a re-programmable cable assembly connecting a marine sensor to a platform, simplifying the integration of a new sensor and its data.
The SMART Cable consists of an ultra-low-power miniaturized printed circuit board embedded between each end of a sea cable. This innovative cable assembly allows several functionalities such as data processing, data logging and voltage regulation between a sensor and a platform such as a glider, AUV or buoy. The cable assembly turns a passive device into a smart processing unit.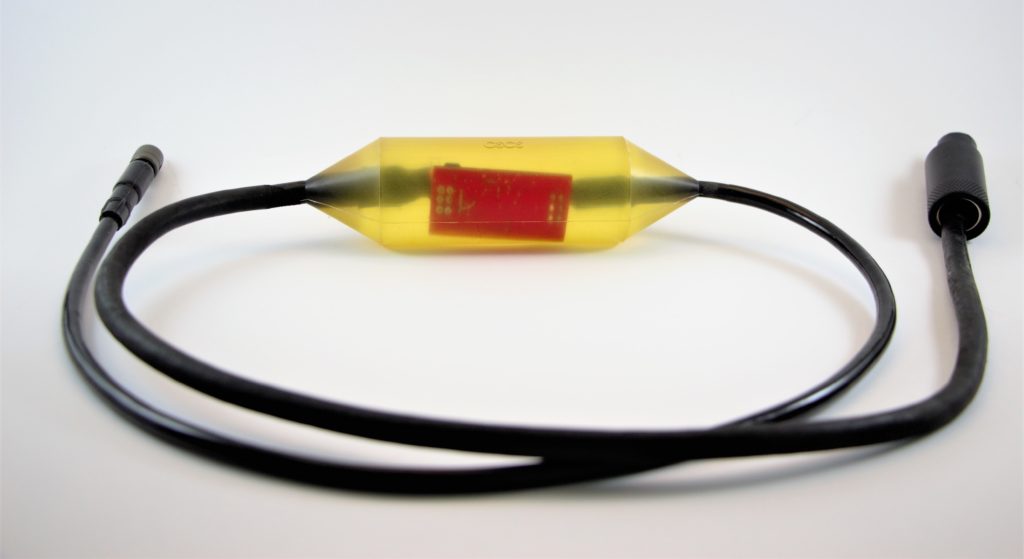 Basic Onboard Modules:
32-bit Microcontroller
Step-up/Step-down Voltage Regulators
Flash Memory Unit
16-bit Analog to Digital Converter (ADC)
Input / Output Communication Protocols:
RS-232
RS-485/422
Ethernet
Analog voltage
4 – 20 mA current loop
Optional Modules:
Real-Time Clock (RTC)
Wi-Fi
More custom modules upon request
One example of SMART Cable functionality is the PUCK capability. PUCK is a standard developed by OGC to address installation and configuration challenges for sensor integration. Currently, new sensor integration introduces a lot of hassles and engineering costs for the operator. At the same time, accessing the data is a big challenge for the user's of the sensor data, since the collected data is rarely standardized or interoperable.
The Sensor Web Enablement suite of protocols aim to solve the issues both operators and users experience. The main idea is to produce a standardized output data format regardless of the type of sensor or platform. The standardized data can be easily visualized and accessed by the end users.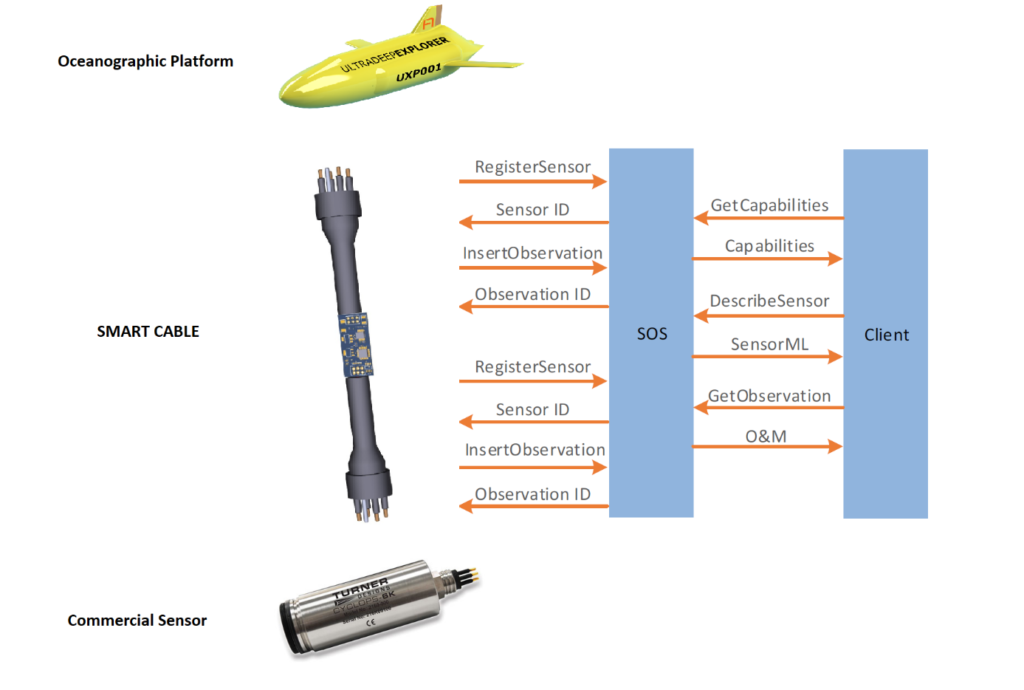 Regarding the PUCK protocol, it defines the lower layer of the data hierarchy. The SMART Cable consists of electronics which hold a sensor descriptor file (SensorML). Upon receiving the correct PUCK commands, the SMART Cable transmits this file to the platform. As facilitated by the SMART Cable, this process not only standardizes the data coming out of the sensor, but also automatically integrates the sensor into the platform since the communication protocol is defined in the descriptor file along with other metadata.

SMART Cable – Sensor & data integration made easy.
The SMART Cable was developed through the SMART Cable Project. This project is part of the Research & Innovation Foundation Framework Programme RESTART 2016-2020 for Research, Technological Development and Innovation and co-funded by the Republic of Cyprus and the European Regional Development Fund (grant number ENTERPRISES/0916/0066).