The SMART Cable is a programmable cable assembly intelligently connecting a marine sensor to a platform.
This innovative cable consists of an ultra-low-power miniaturized printed circuit board embedded between each end of a sea cable. This cable allows several functionalities and data processing capacity for input and/or output data to connect the sensor to an oceanographic platform such as a glider, AUV or buoy, turning a passive device to an efficient processing unit.
The electronics board will consist of a microcontroller and some memory for storing meta-data about the device to achieve standardization along with the capability of processing raw data from the sensor.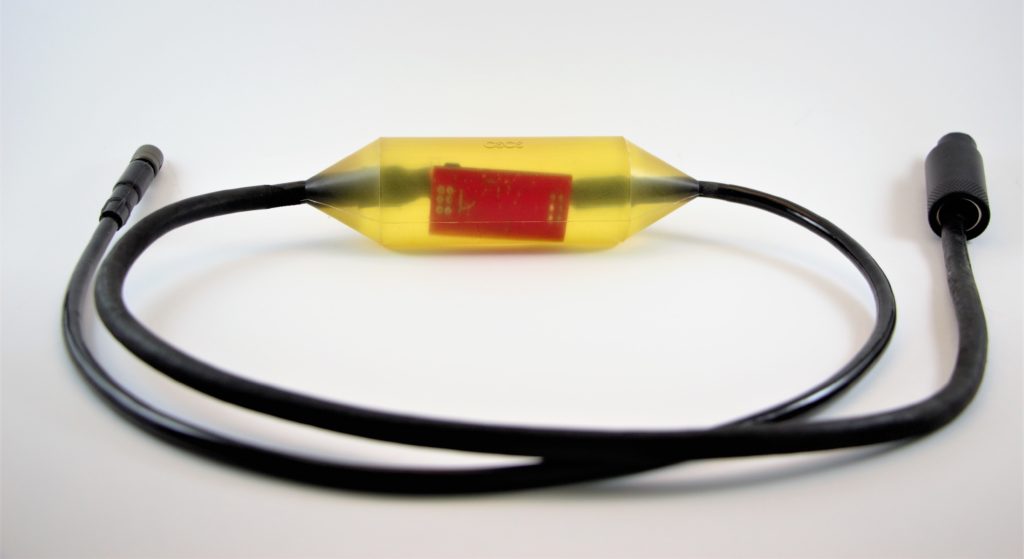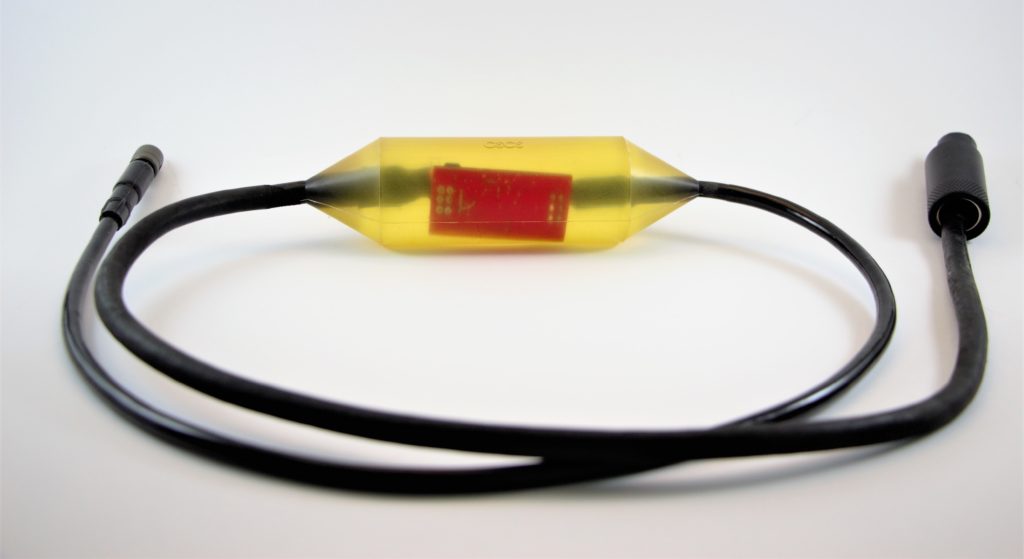 Key Functionalities:
Makes a sensor "SMART" by adding PUCK functionality
Re-programmable to add any kind of process on the data entering & exiting the sensor
Enables automatic plug-and-work integration of new sensor(s) to a platform
Facilitates visualization service based on Sensor Web Enablement (SWE) standards
Data & metadata flows in an interoperable fashion
Minimizes engineering effort
Basic Onboard Modules:
8-bit Microcontroller (possibility to upgrade to more powerful modules)
Step-up/Step-down Voltage Regulators (5 to 28 V)
Flash Memory Unit
16-bit Analog to Digital Converter (ADC)
Input / Output Communication Protocols:
RS-232
RS-485/422
Ethernet
Analog voltage
4 – 20 mA current loop
Optional Modules:
Real-Time Clock (RTC)
Wi-Fi
More custom modules upon request
Current glider platforms capture the data of the payload and navigation sensors in a proprietary manner. Though the storage of the gathered data is harmonized to a certain extent (i.e. using the EGO Glider profile for NetCDF), discovery and access of these was not established in an interoperable way that allows straight-forward integration of different platforms.
The SMART Cable, currently under further development, simplifies the procedure of integration and configuration of new sensors in different oceanographic platforms. At the same time, by providing meta-data in addition to the measurements, this cable facilitates the interoperability in the complete data flow from sensor to user. It is a standards based approach for the discovery and access of glider data. Collected data will be much more easily accessible and shareable between different organizations.
This innovative cable replaces normal marine sensor cables due to its small size, pressure tolerance, and low power requirements. It allows the users and manufacturers to very easily "standardize" a wide variety of sensors by specifying command syntax and sensor metadata in a simple SensorML file used in the PUCK protocol.
The Sensor Web Enablement (SWE) standards family of the Open Geospatial Consortium (OGC) outlines a service infrastructure that allows data analysts to easily search for and integrate glider data of different vendors.
The SMART Cable demonstrates, in the field, new interoperability tools that have been developed and field-tested for ocean sensor and real-time data sharing, based on these OGC standards. These software and firmware tools have been implemented on different platforms and sensors. They are available open-source and now require substantially less engineering time than in the past.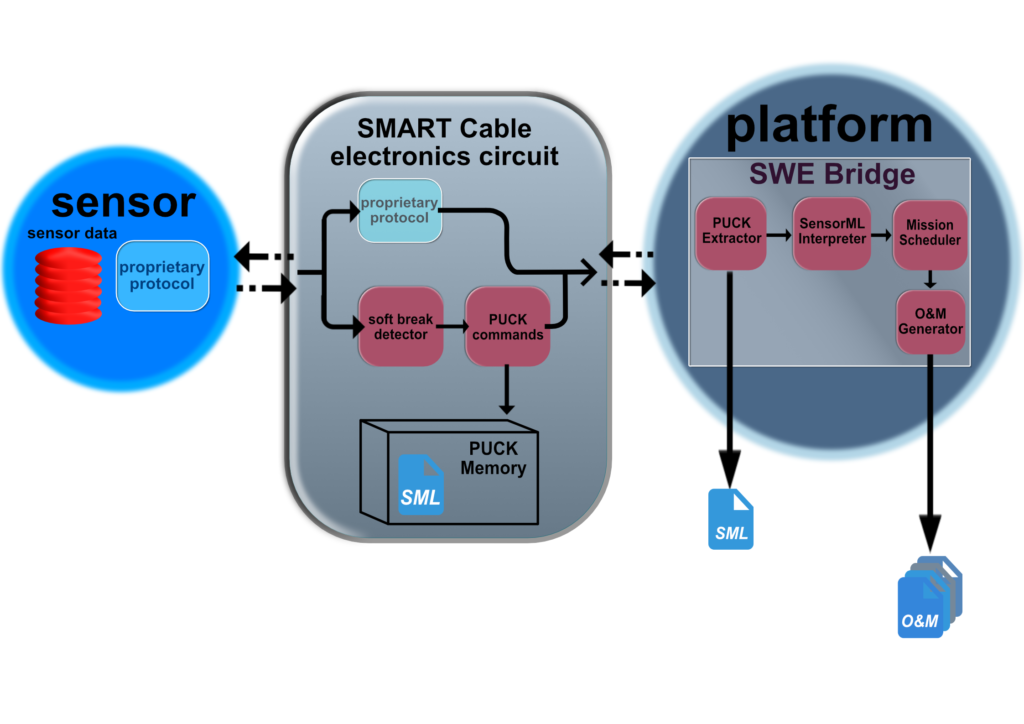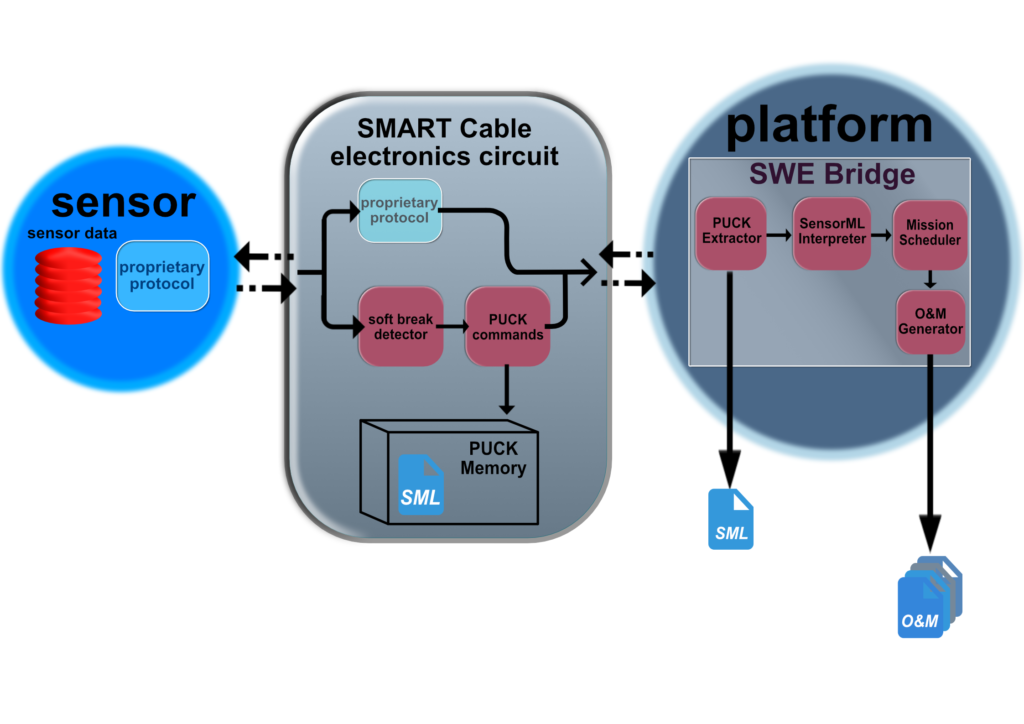 Platform integration becomes easier since a software module only needs to be developed with all such standardized sensors once. The SMART Cable interface will be programmed by users in order to carry out on board processing and formatting according to their needs.
This SMART Cable reduces development and operational cost for platform and sensor manufacturers to provide the marine cable industry with advanced capabilities and allows the collected marine observations to be accessible and usable indefinitely.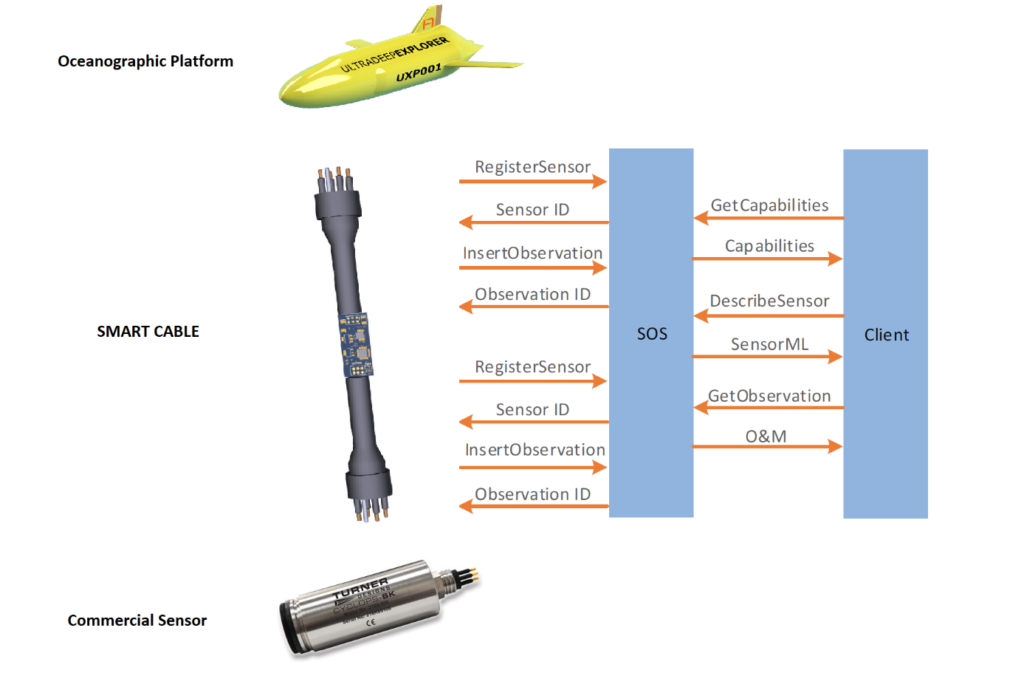 Since the concept has been proven, similar devices can be used for a variety of other applications depending on the user's needs!