We're pleased to announce the launch of the Gliders for Research, Ocean Observation and Management: Infrastructure and Innovation (GROOM II) Project website!
To know more about the project's objectives, activities and opportunities, visit: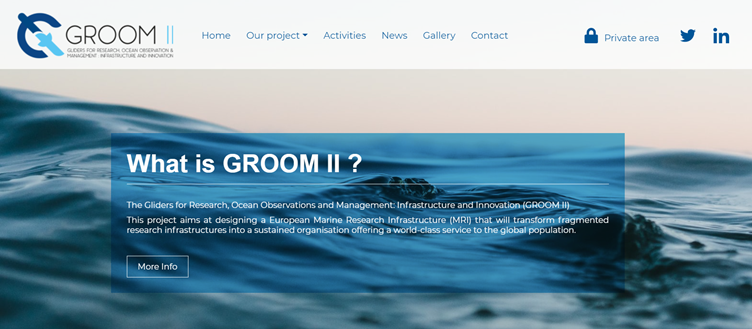 This project aims at designing a European Marine Research Infrastructure (MRI). The MRI will transform fragmented research infrastructures into a sustained organization offering world-class services to the global population.
The consortium has designed GROOM II's website for a wide variety of stakeholders — from the general public to scientists and industry. The content ensures that readers make the best use of our budding Marine Research Infrastructure and excellent services.
General public will get to know more about the use of gliders for ocean observation.
Scientists and researchers will learn more about the Research Infrastructure that GROOM II project is currently designing. In addition, consortium members will periodically post information about international events featuring marine robotics and ocean observation.
Industry has been invited to participate in GROOM II activities & provide input.
Currently, we are adapting the Research Infrastructure to sensor and glider manufacturers' needs as well as those of scientists!
GROOM II Web Pages
The Context page offers general information about ocean's health, marine robotics and gliders. If you are curious about gliders, have a look at the Gallery. In addition, visit the Activities and News pages regularly for up to date information.
For more details about Cyprus Subsea's particular contribution to the GROOM II Project, visit our GROOM II Project and Experience page.